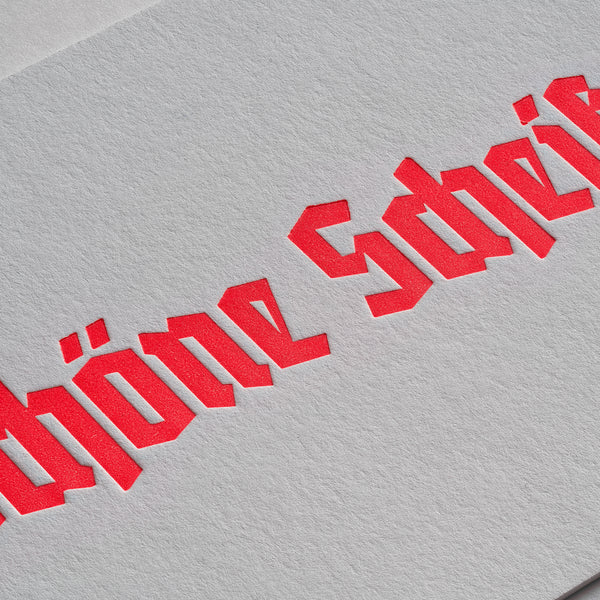 These cards celebrate the shortest German phrase used to play down a disaster: "Schöne Scheiße", or what a mess we're in! It's a well-intentioned push that solves the problem. This one is spiced with genuine empathy. Two other words on cards lead up to this: "Schön" and "Scheiße". Both very important German words from the opposite end of describing things, with "Schöne Scheiße" offering a good compromise. "Schön" is blind embossed and "Scheiße" printed dayglo magenta. All letterpress from metal type. Non-German speakers should also note the ch-ligature, i. e. two letters joined together as they form one sound. Same goes for the ß-ligature: a long and a round s, pronounced like a voiceless s, as in passport.

The beautiful close-ups are by our own Norman Posselt who is responsible for most of the good photographs on this site. Occasionally we have to resort to iPhone quickies that serve their purpose but don't compare to Norman's professional takes.

Printed on Metapaper Pure Cotton white, 710 gsm with our Boston Platen Press.
Set of three.
Due to analog printing, minimal deviations may occur. These are not flaws but make each of our products unique. As a handmade product, it is never an identical replica of the picture.