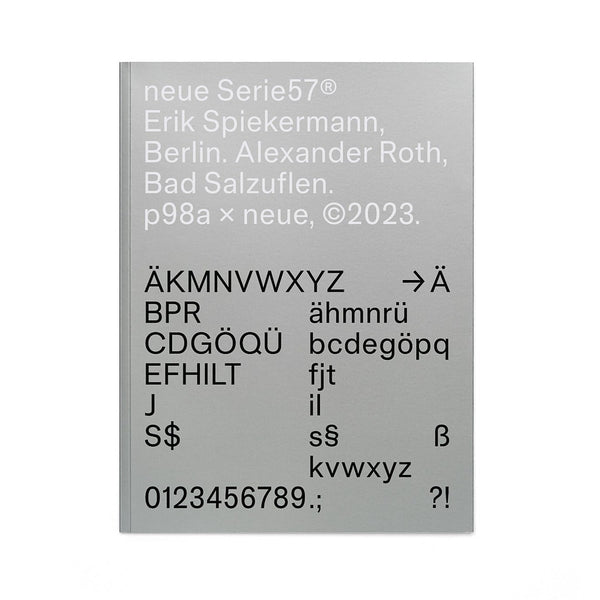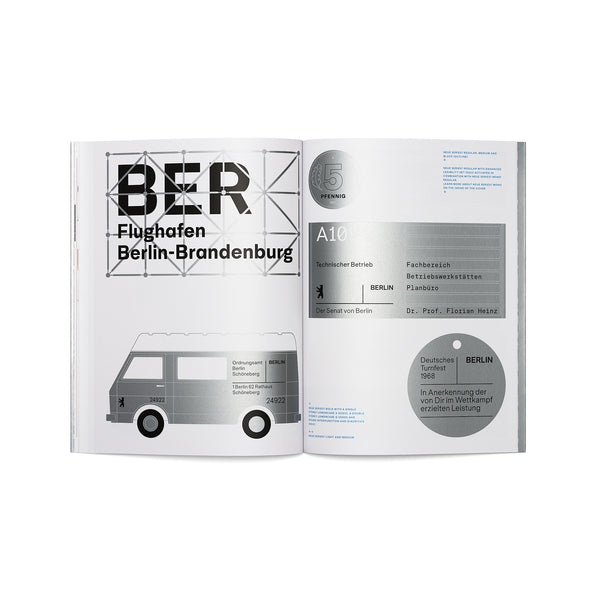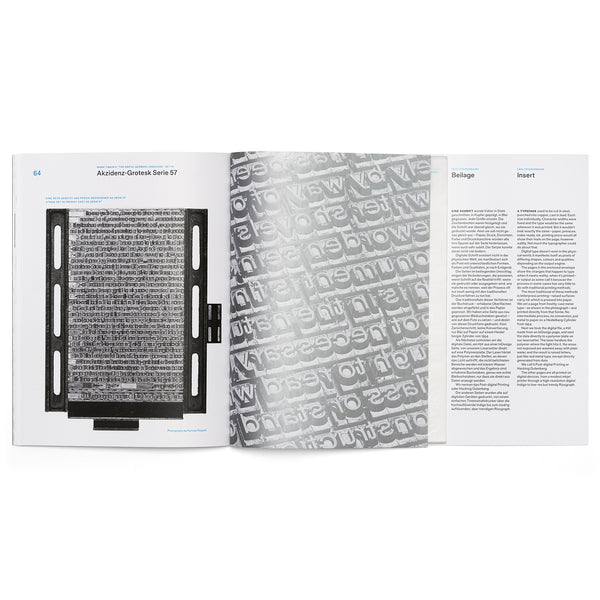 neue Serie57® Limited Edition Type Specimen
About the Specimen
This is a typographic world premiere. A type specimen showcasing neue Serie57 — the very first digital version of Akzidenz-Grotesk Series 57.
210×280mm in size, 380g in weight, 64 pages plus cover, and printed in 4C+Pantone 877 Silver on FSC-certified Magno Volume Matt paper. The type specimen includes three essays by Erik Spiekermann ("About Type Specimens", "Look Back in Lead", and "Akzidenz-Grotesk Serie57: Context") and one by Alexander Roth ("The Design Process of neue Serie57®"). In addition, it features a detailed display of all weights, the glyph palette, all OpenType features, and many serving suggestions.
The unexpected bonus is the 7-page insert: an excerpt from Mark Twain's "The Awful German Language" printed in different printing processes, one of them being letterpress on a 1954 Heidelberg cylinder from handset metal type. For this crazy exercise, Erik had 16 point Akzidenz-Grotesk Series 57 cast by Rainer Gerstenberg in Darmstadt. The original matrices were borrowed from Leipzig especially for this purpose.
The edition is limited to 500 copies, numbered by hand and signed by all participants.
Each copy comes with a 20% off promo code for the all-new neue Serie57 type family. Visit neue.shop for licensing options.
About the Designers
Erik Spiekermann (*1947) is information architect, type designer (FF Meta, FF Meta Serif, ITC Officina, FF Info, FF Unit, FF Unit Slab, FF Real, LoType, Berliner Grotesk, et al, and many corporate typefaces for The Economist, Cisco, Bosch, Deutsche Bahn, Heidelberg Printing, Mozilla, etc), and author of numerous books and articles on type & typography.
In 1979 he started MetaDesign, Germany's largest design studio, and in 1989 FontShop, the first independent distributor of electronic fonts. Erik's many awards and medals would be too boring to list.
Apart from being on the board of Edenspiekermann, he now runs p98a.berlin, an experimental letterpress workshop in Berlin whose motto is "Hacking Gutenberg". Spiekermann lives and works in Berlin, London and San Francisco. He owns 15 bicycles and has 290,000 followers on Twitter.


Alexander Roth (*1984) was born in the former Tajik Soviet Socialist Republic and raised in Germany. He held positions as a Graphic Designer for FontFont, as a Lead Graphic Designer for FontShop and as a Marketing Manager for Monotype's digital commerce businesses, including FontShop.com, FontFont.com, Linotype.com and MyFonts.com, before joining Monotype's Type Team and typographic brand consultancy.
In 2020 he founded neue. A type design practice offering off-the-shelf and custom font solutions.
Alexander holds a bachelor's degree in Media Production, a master's degree in Type Design from the Royal Academy of Arts in The Hague, a handful of branding certificates, and accolades from the Type Directors Club, New York.

Typeface
All text is set in neue Serie57. It is the very first digital version of Akzidenz-Grotesk Series 57—a virtually unknown house cut of the world-renowned and beloved Akzidenz-Grotesk. Erik discovered this "unicorn" in his typographic workshop in a mislabeled case containing 16 point metal type. Based on this single typeface Erik and Alex designed a complete type family: seven weights, corresponding italics, a character set of more than 1100 glyphs including lots of stylistic alternatives and OpenType finesses. The typefaces is dedicated to Günter Gerhard Lange— Erik's teacher and role model.

neue Serie57 is exclusively available through neue.shop

About the production and materials
Layout and typesetting:
Erik Spiekermann & Alexander Roth
Photography:
Norman Posselt
Production Management:
Daniel Klotz
Communications and Logistics:
Helene Bunge, Lilith Zachwieja, Lennart Zachwieja
Typeface: neue Serie57
Software:
macOS Monterey(12.0.1), Glyphs 3 (3.0.5), Kern On, Adobe InDesign 2022 (17.0), Adobe Photoshop 2022 (23.0.1), Adobe Illustrator 2022 (26.0.1)
Hardware: Apple MacBook Pro 16" (2021), Apple MacBook Pro 13" (2016), Apple Magic Trackpad (2010)
Paper:
Fedrigoni Volume Matt FSC
Printed in Germany
gutenberg beuys feindruckerei, Langenhagen
© 2023 Erik Spiekermann, Alexander Roth, p98a.berlin
ISBN 978-3-949164-11-8